Charles
Moderator



Joined: 23 Jun 2003
Posts: 6949
Location: Oxford
Posted: Wed Nov 18, 2009 1:20 pm

Post subject: Wii Fit

---

Thinking of getting a family present for Christmas and the Wii balance board seemed like a good idea.

Starting the research but wondered if anyone has any experience of good games to go with the board.

Also, can you get the board separately or do you have to go down the "Wii Fit Plus" route and then add additional games on top?
_________________
Charles
Teacher of Chemistry and driver of ALPINAs - not necessarily in that order
B3S Touring (49/116) - been to the moon and now on the way back!
Renault Grand Espace - not mine but the wife's!
blacky
ALPINA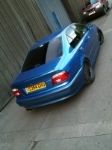 Joined: 08 Jan 2007
Posts: 1971
Location: stockton Car :B10 3.2
Posted: Thu Nov 19, 2009 1:25 am

Post subject:

---

i got michelle a wii & wii fit with wii sports resorf in sept for her birthday

not really got in to it yet but she has used it a few times

im just waiting to get mario cart for my self lol
_________________

the start of something good