What power did she make on the rollers Simon?
---
i didn't write it doh!

295bhp and 270lbs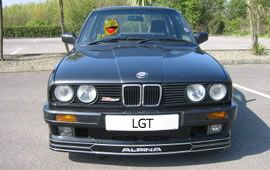 ---
So a bit down then
Charles
Teacher of Chemistry and driver of ALPINAs - not necessarily in that order
B3S Touring (49/116) - been to the moon and now on the way back!
Renault Grand Espace - not mine but the wife's!
---
Hi,

Can I ask whether you removed the Pierburg vacuum pump and associated hardware? I'm doing this conversion at the moment and have removed this, hope it doesn't give me a check engine light..

Also, did you convert from the automatic steering column to the manual version? I did this also and it's relatively easy to do. I also changed to the electric fan..(and lots of other small stuff specific for the manual version).

Cheers,

Adwo
2006 E46 B3 S convertible #165
2000 E46 B3 3.3 limo #172
1999 Mitsubishi Evo 6 RS
2020 Polestar 2
---