---
Norrie wrote:15 cars not a fantastic turn out then, as this is supposed to be the BMW Car Clubs premier event, more turned up to the ACE Cafe. I think that tells me all I need to know?

Glad I decided to give it a miss this year.
myself and several other alpinas probably 5 plus where on other stands. There was an e39 V8 b10 on a trade stand, E31 B12 5.0 on a regional stands that i recall
I'm not sure i've seen more than 20 cars on the alpina stand at gaydon ?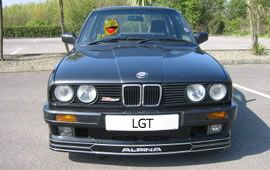 ---
---
---
---
I have been every year since 2011 and can remember over 40 ALPINA one year when SPA69 was organising it. Clearly it is up to people where they choose to park and with whom, so quite rightly the figures could be distorted.

So parking with regions, registers, different clubs or forums or entering the concours, all a bit fragmented. I prefer ALPINA only events, however there are not enough in UK. In my personal view.
E65 B7 4.4 V8 supercharged No 106 (1 of 7 in UK) - purely for pleasure
E 39 523i for winter and track day - leave it anywhere
E92 325i - written off by X5 I was not driving!
E92 335D Twin Turbo - sold to Sytner Alpina
E 60 - 525D new - sold to Cooper BMW
E 60 - 530D new - sold at auction
E 39 - 520i new - sold at auction
E 30 - 316i new Touring - sold at auction
---
---
PhillV8S wrote:I am glad I made the effort to go to Gaydon today. Won best Alpina and best late "E" model class in the concours.

First ever attempt so very happy with the result. A bit damp in the morning which made things challenging but dried up in the afternoon. I enjoyed the banter with the other competitors and would recommend entering if you have thought about it but never made the leap before. Everyone was rooting for everyone else to win which was nice to see and be part of.
Well done pal.
The car looks great!
E36 B3.0 #0178
E30 C2.7 - Stolen

If you ever have everything under control, you're not moving fast enough
---
ALPINA

Posts: 1015
Joined: Fri Apr 27, 2012 9:36 am
simon13 wrote:
joking, i was hidden up the grass bank with all the council groups parked on the mud!
Mud, poor car!
E39 B10 V8S Touring Brass Metallic
E34 M5 Touring Elekta British Racing Green
E39 530i Sport Touring Sterling Grey
Z3 M Coupe Dakar Yellow
Z4 Monaco Blue
SLK55 AMG Silver
---