Hello Alpina and BMW lovers,
at first I want to apologize for my english, its not excelent, but I hope you will understand me
So here is my story and my problems, which I hope to solve with your help.
I have an e39 530i, bought it about ~2 years ago. It is simple e39, nothing special. I thought maybe to do with him M sport, but I think its too mainstream, because there are plenty of it in the streets. And easer to buy genuioe one. So one day accsidently I found an Alpina front lip for sale and I bought it. I thougt maybe it would be possible to build Alpina replica, it would be much more interersting to me, because it is realy rare thing, and to buy real one is not cheap, specialy for me as a student
. But I was thinking that to do that will be hard, because parts are realy rare. But not long time after I found for realy good price Alpina r19 rims bought it. After that I realy want to do good Alpina B10 replica. But I need a little bit help from experts
So i have for now a few questions, and I will have more in a future, so I hope this topic will be ok
1) At first I want to ask about rear Alpina spoiler on the trunk. I dont see on all e39 Alpinas spoilers, manny of them are without. But on some of them there are two versions of spilers, am I right? Why are they different? One is real and ine is fake? Or one is for B10 3.3 and the other one is for B10 V8s? I'm talking about theese: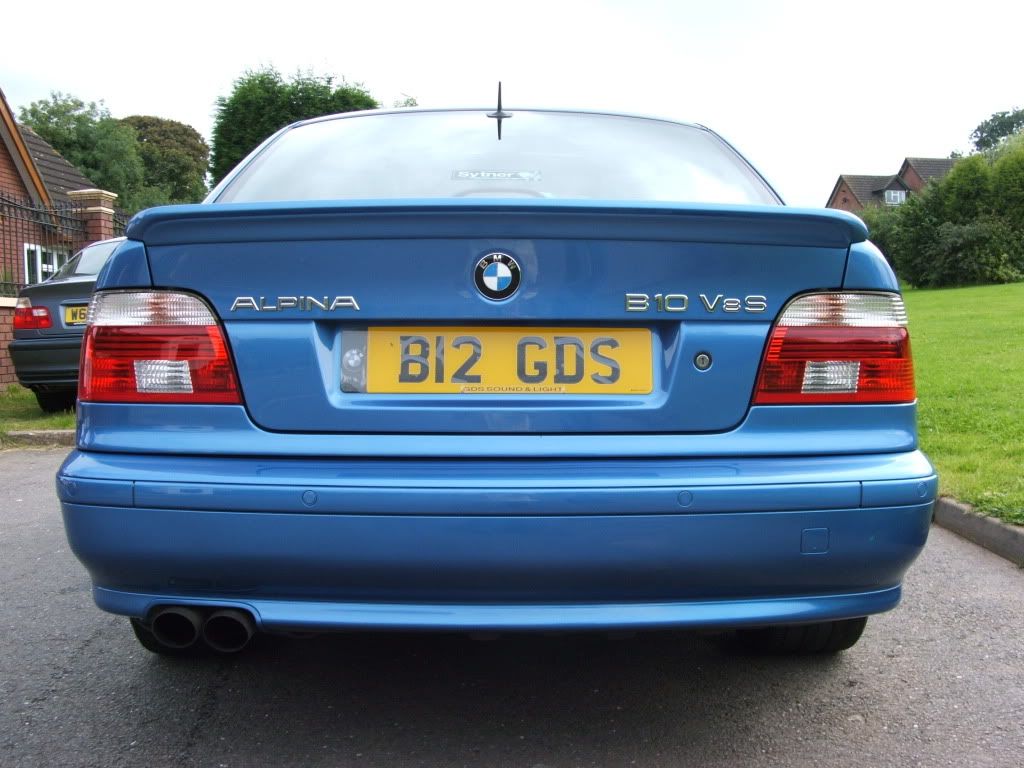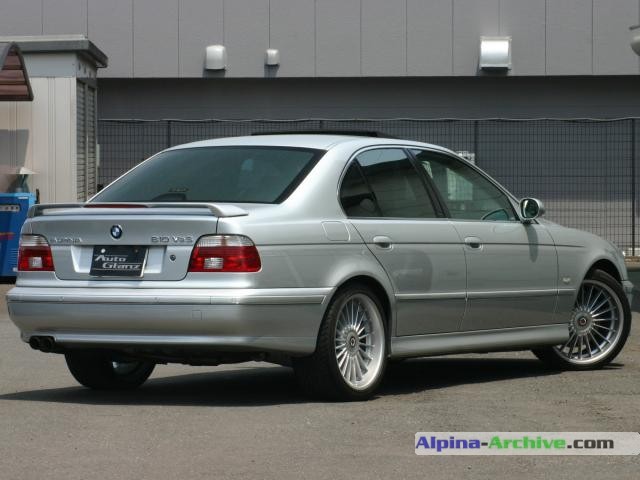 The first one on the blue e39 I like better
2) Second thing I'm interested in, the exhaust mufflers. Is taht bottom bumper part could be found somewhere for sale as the front lip? or I should made my bumper look like alipna on my hands and there nothing to do other?
3) Alpina stripes for silver body? What color originally was? Golden? And is it possible to found them in good quality, but not from Alpina, because its a litle bit to expensive for me, I asked Alpina dealer, and got answer that stripes cost for B10 e39 about 600 euros
...
4) And what is the splash screen logo of Alpina for 16:9 TV originally? On the inthernet I found manny versions like :
and others... Which is real, not fake and modified by peoples?
For now is enough, but I will need more help in future, I hope you will under stand me and help me
Pic of what I started